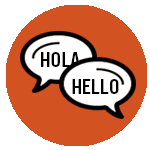 JAVIER: Mmm, this is very tasty. ELENA: My enchiladas are very good. You have to try them. JAVIER: And you have to try my dish. ELENA: I don't think I can. Here in the U.S. they give a lot of food. JAVIER: Yes, well, but if there are leftovers, you can ask for a box and take it home. That is almost never done in Spain. ELENA: Not in Argentina either. WAITER: Hello my friends. How's everything? JAVIER: Everything's delicious. Can you put the food in a box? WAITER: Of course. Excuse me. And for you, miss? ELENA: Yes, please. WAITER: Excuse me. Can I offer you a dessert? JAVIER: We cannot (eat) any more. WAITER: Great. JAVIER: Can you bring us the check, please? WAITER: Yes, of course. Excuse me. ELENA: Thank you. WAITER: Excuse me, my friends. Here is your food to take and here is your check. Thanks so much. See you later. ELENA: Thank you. JAVIER: Thank you, Margarito. WAITER: Excuse me, thank you. ELENA: Let's see. How much is it? JAVIER: It's 21.75. But I have to pay a little more, because I ordered a Coke, and you didn't. ELENA: Ay Javier, don't be silly. We'll split it. JAVIER: Are you sure? ELENA: Of course. JAVIER: Okay. ELENA: And how much tip do we leave? JAVIER: Let's see. 3.50. ELENA: Okay, a little more than 15% JAVIER: That's it.
 Comprensión de la escena
 Temas de estudio
 Notas culturales
Los mexicoamericanos (Mexican Americans)
In the United States there are over 35 million people of Mexican origin. That number represents almost 11% of the total US population (and 64% of all US Hispanics.)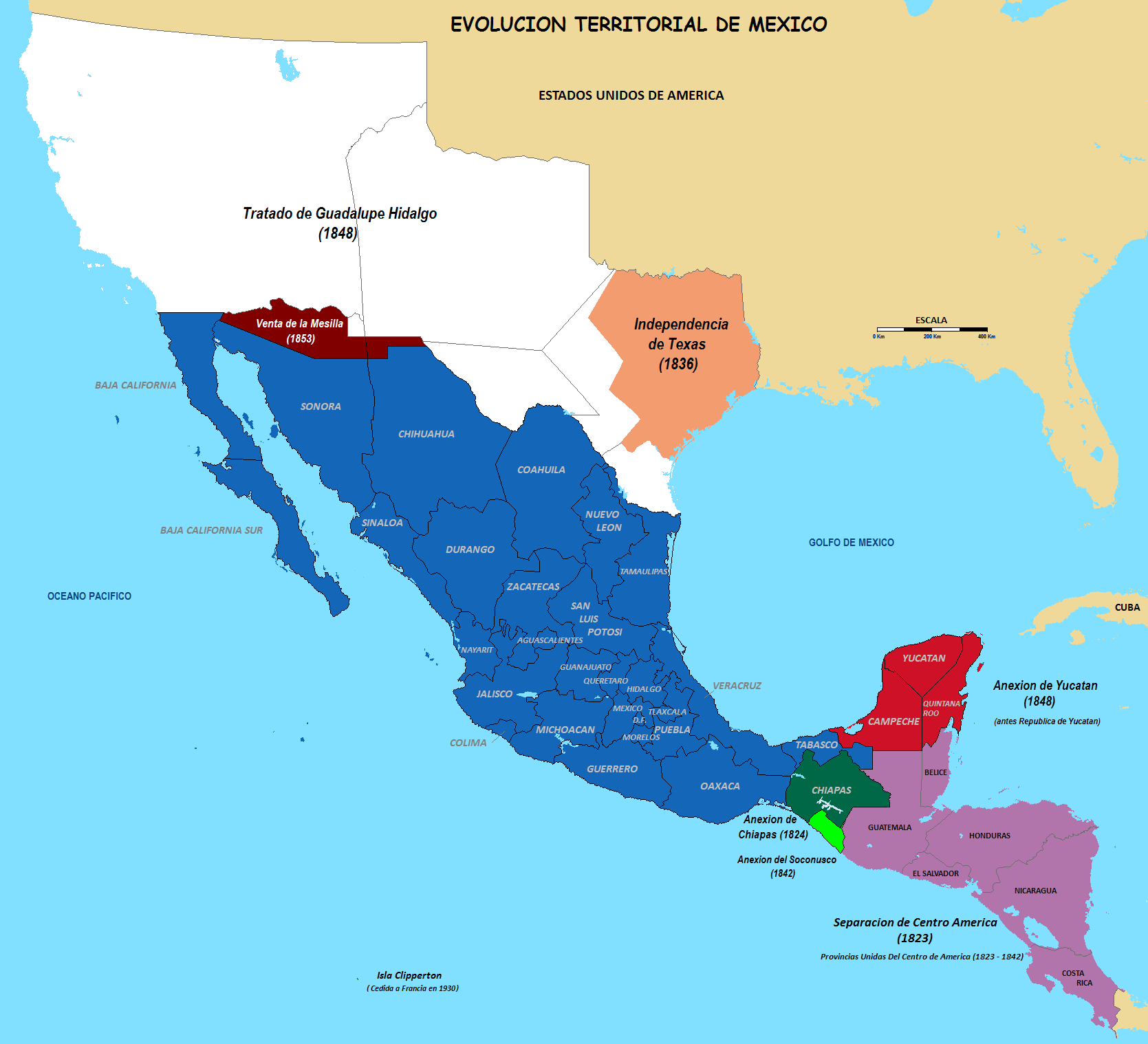 This number should not be surprising, not only because Mexico and the United States share a very long and fluid border, but also because Mexican people have lived in US territory since long before the US was an independent country. In fact, what today are the states of Texas, Arizona, California, Nuevo Mexico, Nevada, Colorado were before Mexican territory.
This map shows in white, orange and red the US territories that belonged to Mexico first.
By Hpav7 (Own work) [Public domain], via Wikimedia Commons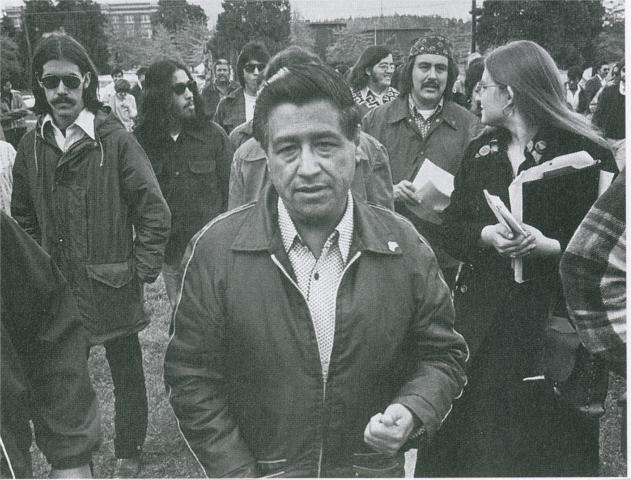 Although there too are many important Mexican Americans to list, the figure of César Chávez stands out as one of the great activists of the Civil Right Movement of the 1960s. He made famous the phrase ¡Sí se puede! (Yes, we can!)

Una calle en Portland,Oregon
By Movimiento – Own work, CC BY-SA 3.0, https://commons.wikimedia.org/w/index.php?curid=19596843
 Lectura auténtica
¿Por qué en EU celebran más el 5 de Mayo que en México? Aquí 10 datos…
Esta fecha conmemora un triunfo militar, pero no la Independencia mexicana, y
suele
generar mayores
festejos
en
EU
que en México
El 5 de Mayo puede ser un día dedicado a comer totopos y usar sombrero junto a tus amigos, pero hay mucho más para celebrar. 
Antes de que disfrutes de una margarita y de un plato de guacamole, ¡edúcate a ti mismo! Para ello, aquí hemos recopilado algunos datos curiosos para ayudarte a entender el espíritu de la festividad: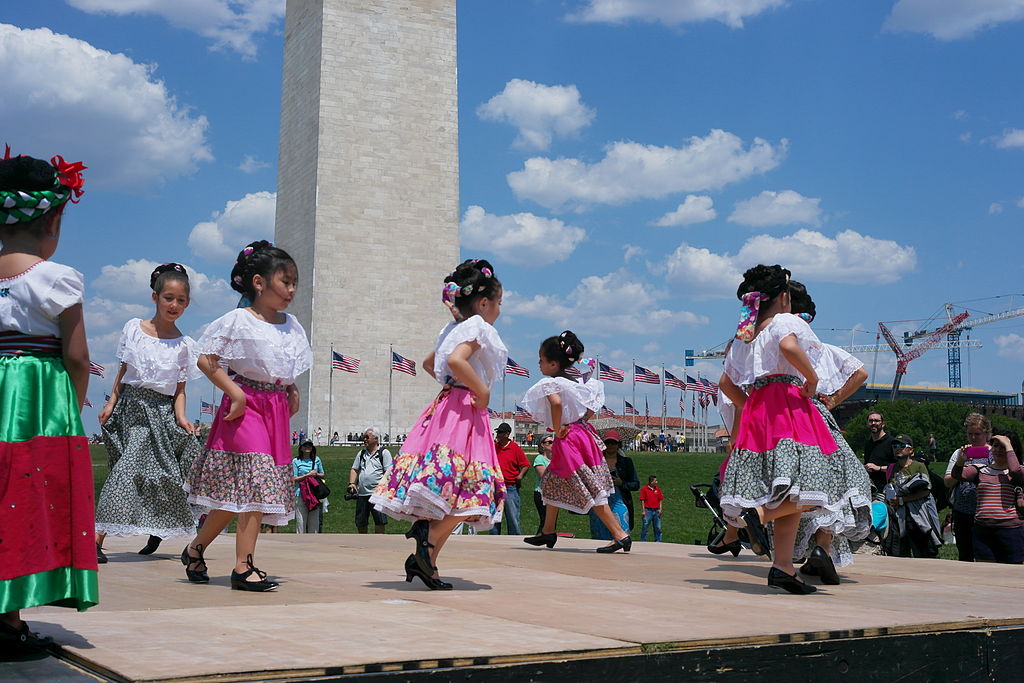 1. En caso de que tu español esté muy oxidado, 5 de Mayo es la traducción para "the fifth of May" en inglés. 
2. La fiesta celebra una victoria inesperada. En esta fecha se conmemora el triunfo mexicano sobre los franceses en la Batalla de Puebla del 5 de mayo de 1862. Entonces, el Ejército mexicano ganó la confrontación a pesar de ser más pequeño y de estar mal equipado. 
3. El 5 de Mayo no es el Día de la Independencia de México (el inicio de la guerra). Eso ocurrió 50 años antes de la Batalla de Puebla y se celebra el 16 de septiembre. 
4. El 5 de Mayo es una fiesta mayormente celebrada en Estados Unidos. Por lo general, en México el día se recuerda únicamente con discursos políticos y recreaciones de la batalla. Muchas de ellas tienen lugar en el propio estado de Puebla. 
Una celebración del Cinco de Mayo en Washington, DC
By S Pakhrin from DC, USA (Cinco De Mayo 2015) [CC BY 2.0 (http://creativecommons.org/licenses/by/2.0)], via Wikimedia Commons
5. La mayor celebración del 5 de Mayo en el mundo se lleva a cabo en Los Ángeles, EU. Se espera que el Festival de la Fiesta Broadway de este año reúna 300,000 personas. Ciudades como Nueva York, Denver y Houston también hacen fiestas grandes con motivo de esta fecha. 
6. El 5 de Mayo es también el nombre de canciones. Artistas como War, Senses Fail y Liz Phair tienen temas con ese título. 
7. Los estadounidenses consumen hasta 81 millones de aguacates el 5 de Mayo, de acuerdo con la Comisión del Aguacate de California. Este fruto se utiliza para preparar guacamole, un platillo popular mexicano. 
8. Según la revista Smithsonian, más de una persona ha reclamado haber inventado la bebida conocida como margarita. Carlos Danny Herrera la creó para una actriz en su restaurante de Tijuana, México, en 1938. 
9. Hay 367 establecimientos de fabricación de tortilla en Estados Unidos, según el censo nacional. A menudo, los estadounidenses se refieren a las tortillas como el "pan de México", un alimento que era parte integral de la dieta de los indígenas. 
10. Alrededor de 33.6 millones de habitantes de Estados Unidos tienen herencia mexicana, según el censo estadounidense.
Fuente: http://expansion.mx/mundo/2014/05/05/por-que-en-eu-celebran-mas-el-5-de-mayo-que-en-mexico-aqui-10-datos
COMPRENSIÓN