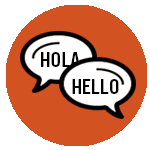 ELENA: Pasta, tomato sauce, olive oil, garlic… JAVIER: Well, you are making a list. ELENA: Yes. If I don't make a list I forget a lot of things. JAVIER: Well oh well, how organized. By the way, this part of the cabinet is for you, for you to keep your things. ELENA: Great. JAVIER: And then, this part of the fridge also. ELENA: Nice. JAVIER: And all in the house share the salt, the sugar and those things. ELENA: Great. Listen, does Andrea like chocolate? I want to make him a chocolate cake for his birthday. JAVIER: Yes, he does, but careful because he is allergic to walnuts. ELENA: Well, I never put walnuts in chocolate cake. JAVIER: Perfect. ELENA: And what else do you think we need for the party? JAVIER: Well…let's see…let me think…olives, nachos, maybe with guacamole, there is a girl who's bringing a Spanish tortilla. ELENA: Nice. How many people are coming? JAVIER: About 40 people. ELENA: Wow, that's a lot of people. JAVIER: Yeah, a lot of people. But everyone is bringing something to eat or drink. I'm buying potato chips. ELENA: You don't do any cooking, do you? JAVIER: Yes, I never lie.
 Comprensión de la escena
 Temas de estudio
Notas culturales
 ¿Qué es una tortilla?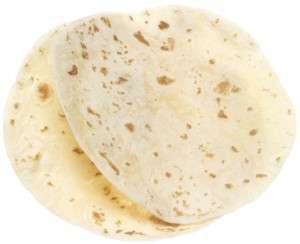 Tortillas in Mexico and Central America are made out of corn or wheat flour, like flat pancakes on which other ingredients are often piled. They existed in pre-Columbian times, made only of corn.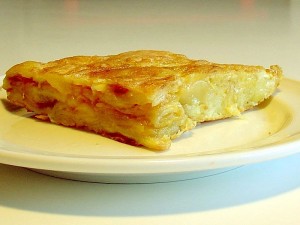 In Spain, a tortilla is an omelette. La tortilla española or tortilla de patatas, has potatoes and possibly other ingredients, most likely onions. Tortillas españolas are big enough to be shared by several people. It is one of the most standard dishes in Spain, at home or at bars as a tapa. ¡Qué ricas todas las tortillas! (How tasty are all tortillas!)
Totilla de patatas by Lluisa Nuñez.(cc-by-sa-2.5)
Lectura auténtica
Una receta para una deliciosa torta de chocolate.
Torta de chocolate con cubierta de chocolate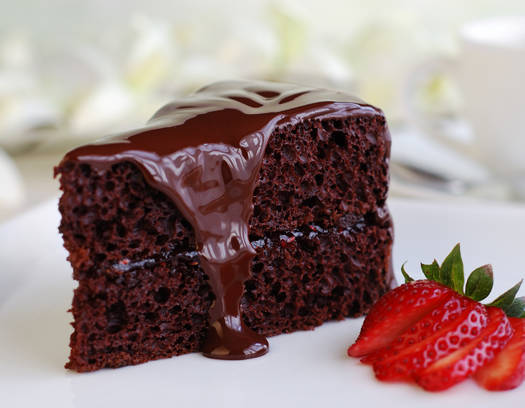 Ingredientes

(6 a 8 personas)
1 1/2 Taza de azúcar morena
1/3 de Taza de cacao o chocolate en

polvo

1 Taza de leche
150 g. de chocolate negro en

trozos

125 g, de mantequilla
1

Cdta

. de esencia de vainilla
3 Huevos (separar las

claras

de las

yemas

)
2 Tazas de

harina

1

Cdta

. de

bicarbonato

1

Cdta

. de

polvo

para

hornear
Relleno y glaseado de chocolate
2 Latas de leche condensada
300 g. de chocolate negro
1 Taza de leche
1

Cda

. de mantequilla
1 Taza de nueces

picaditas

Guindas

rojas y verdes para decorar (opcional)
120 minutos
Preparación
Precalentar el horno a 350º C.
Engrasar y
espolvorear
con
harina
los dos
moldes
donde se va a
verter
la
mezcla
. Deben ser redondos, profundos y con un diámetro de aproximadamente 20 centímetros.
En una
olla
, a temperatura media,
derretir
el cacao o chocolate en
polvo
con la taza de leche y la mitad del azúcar morena.
Luego, agregar los 150 gramos de chocolate negro en
trozos
. Al estar
derretido
,
dejar
enfriar.
Colocar en la
batidora
eléctrica el resto del azúcar y la mantequilla. Batir hasta que quede
cremosa
.
Agregar la esencia de vainilla, las
yemas
de huevo una a una y la
mezcla
de chocolate
ya
enfriada.
Unir todo muy bien.
Añadir
la
harina
, el
bicarbonato
y el
polvo
para
hornear
. Mezclar en forma
envolvente
.
Repartir la
mezcla
en dos
moldes
y
hornear
por 35 minutos. Para verificar que estén
listos
,
pinchar
la torta con un
palito
de metal y si este sale limpio es que la preparación
ya
está cocinada.
En una
olla
,
derretir
el chocolate negro picado en
trozos
, las dos tazas de leche condensada y una taza de leche.
Al estar cremoso agregar una cucharada de mantequilla para darle
brillo
a la crema.
Rellenar
las tortas con un poco de crema de chocolate,
montar
una sobre otra y
cubrirlas
con la misma crema utilizando una espátula.
Adornar con nueces
picaditas
o
guindas
rojas y verdes.
http://www.estampas.com/cocina-y-sabor/recetas/071228/torta-de-chocolate-con-cubierta-de-chocolate
COMPRENSIÓN